Local and foreign space companies have emphasised the importance of Australia developing its own talent pool in order to ensure the success of the country's space industry.
"I believe space is regarded as cool. "It's something to be interested in, but I think the issue is that people don't really know how to get into it," Airbus told the Standing Committee on Business, Innovation, Science and Resources during an inquiry into the development of Australia's space industry.
"I believe there is a problem with space being inaccessible, both in terms of actual space and in terms of space as an industry, where scientists are seen as the ones who are required." They certainly are, but you still need business people, people with planning backgrounds, people with accounting backgrounds, and a diverse group of people to make space work and turn it into a commercial enterprise.
"You need to transform it into a business so people can see the way in." If you try to make space sexy by looking at astronauts or other highly competent people, you'll find that it's out of reach for the vast majority of people."
Airbus advised thinking about how to commercialise Australia's space industry so that a career in space is open and practical for everyday Australians, such as reminding people that "when they're following the little blue dots on Google Maps, that's because of some really clever scientists."
"To work in space, you don't have to be the best physicist on the planet." You can be a great accountant and work in space, or you can be a great configuration manager and work in space. It's about broadening rather than narrowing the perspective on space," the company added.
In addition, here are six space missions to look forward to in 2021.
Earthspace agreed, adding that Australia currently lacks the required space skillsets as a result of its long-term reliance on other countries for space-based services. According to the company, Australia should aim to develop a space industry similar to how it built a car industry.
"We no longer have [the auto industry], but it used to be the top integrator, with a pyramid of supply capability capacity know-how of how to produce vehicles beneath it." We don't have the pyramid under the space industry right now, so it's an important move we need to take to get there. Some of this will be the responsibility of industry, while others will be helped by government action, according to the company.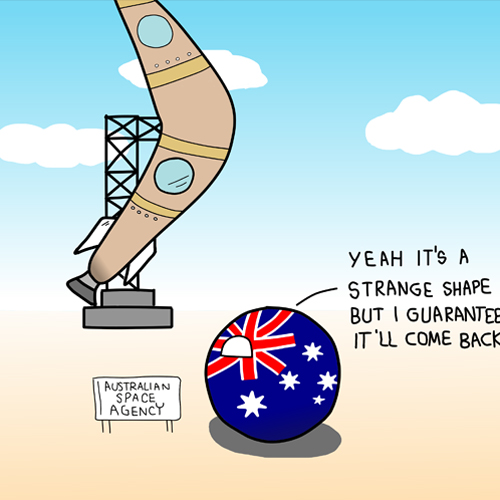 The solution will be a "multi-layered" mechanism involving the establishment of training programmes at "one or two primary centres within Australia that are motivated and informed with the know-how experience of how to screw things together so that they work efficiently when they get into space — it is not trivial," according to the study.
Earthspace indicated that having adequate STEM programmes in place is another factor to consider.
"Anyone who has had children knows that space and dinosaurs are two subjects that children adore. It's fantastic if this nation has an aspirational programme in place to encourage that inspiration. However, it's almost a chicken-and-egg situation. NASA is well-known among the general public. What is Australia up to these days? We have no idea what we're doing and we haven't done enough. There are shards of perfection here and there, but there's a lot of emptiness in between."
Developing local expertise to help Australia's space industry, according to Electro Optic Systems (EOS), is a matter of national security.
"In my opinion, the next war will be fought in space and cyberspace… We need to develop both their capacity and their knowledge of space because Australia's Defence Force is based on platforms and has less than 100 people who have little to do with space… We need to mobilise Australian industry as a defence power multiplier… On Friday, a company representative said that the company's capability is "ten- to one-hundred-fold greater than what Defense can accomplish alone."
"With foreign nationals, we can't do that… So, if we can put sufficiently credible capacity in place to make ourselves… unpleasant enough to decide not to take on, Australian industry is the secret to our surviving or even preventing future wars."
Penten, a cybersecurity company headquartered in Canberra, made similar remarks, believing that the space industry would be an extension of the cybersecurity field. The business has urged the government to consider establishing a policy to protect local intellectual property, which they say is "fundamental" to the development of the local space industry.
"It also gives us a tangible sense of presence in what we're doing." The significance of how we support it in terms of gravitas. Having the freedom to make, deliver, and see creativity in action necessitates people being aware of what they're doing, according to the company. "True autonomy is that," the company stated.
SATELLITE FOR BUSHFIRE DETECTION TO BE LAUNCHED INTO SPACE
A deal has been signed by three Australian space firms to launch a bushfire monitoring satellite into space.
Space Machines Company, a supplier of in-space transportation, has agreed to launch Fireball.bushfire International's detection satellite into final orbit in 2022 on board its orbit transport, Optimus-1.
Following a September agreement between Space Machines Company and Gilmour Space Technologies, Optimus-1 will be launched into space.
The satellite was created with the aim of automating bushfire detection and monitoring.
"The fact that three Australian companies are working together to complete this critical task demonstrates our country's increasing sovereign industrial capacity in space technology," said Rajat Kulshrestha, founder and CEO of Space Machines Company.
"Rocket technology has critical real-world applications, and it's critical for Australia to develop and own the technology that enables us to explore the possibilities space provides, from deep science for our scientists to projects like this that will make us more resilient against extreme weather events."
Must-read: The 50th Anniversary of Apollo 11: A Look Back at Australia's Involvement in the Moon Landing
The Commonwealth Scientific and Industrial Research Organisation (CSIRO) used bushfire detection as an example last week to demonstrate why Australia needs its own national space capability.
"If you don't have real-time access to info, you can't do bushfire monitoring from satellites." You either need to have a strong partnership with another country or own a satellite to have real-time data access. CSRIO executive director of multimedia, national services, and collections David Williams previously told the Standing Committee it "that is a decision for government, rather than a decision for CSIRO — we can provide advice."
NEWS FROM DOWN UNDER IN SPACE
The Australian Space Agency denies that it is disregarding principles and is "gung-ho" about going to the moon.
The space industry in Australia needs policies in place to ensure satellite sovereignty.
The government of South Australia has pledged AU$6.5 million to launch its own satellite in 2022.
The first stage of Australia's space domain awareness capability has begun.
The COO of Virgin Galactic has been appointed the current head of the Australian Space Agency. Australia is a country in Australia. The multimillion-dollar post-coronavirus strategy established by the CSIRO
By 2022, SpaceX will be able to provide satellite broadband to Australia's outer islands.
SpaceX is a private space company that was founded Starlink acquires 5G mmWave spectrum in Australia
Canberra reiterates its contribution to Australia's space future.